I founded Ladybird Art Studio, in Donaghadee. Co Down in 1978, with a purpose built Studio facing the Irish Sea, where I provide professional training for painters in all media. I do demonstrations in oils, acrylic, watercolours and mixed media, to varies art groups and societies throughout the Ireland.
In the late 80's I started to exhibited with the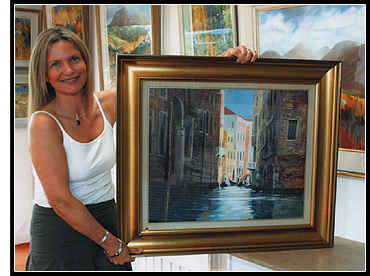 Kenny Gallery, Galway and had my first solo Exhibition in 1990. This started my passion for the wild romantic landscape that is Connemara. The large expanse of sky, the bleak but stunning wilderness that is the blanket bog, which reveals its changing moods hour by hour. It has a rich history going back to our early ancestors, which some years ago I went on a tour showing ancient standing stone and early remains of settlements, so to be able to paint in this landscape is a privilege.
So often we have this misty effect in Connemara, sometimes on the mountains, most often by the coast and it is this which gave me the inspiration for these paintings
Sailing past in the Mist, Misty Roundstone, Morning Mist, Sailing into Clifden Harbour, True Light, Out of the Mist, and the Regatta.
Autumn Bogland ,Reflections and the other paintings of the Blanket Bog are abstract (semi-abstract) paintings. Also included in this genre would be the paintings of waterfalls, which allows me to indulge my passion for colour and texture- not possible with my more academic works, associated with my teaching at North Down College of further Education and more recently with my private students.

My exhibitions include:
Solo Exhibitions


1989 Priory Gallery, Hollywood.
1990 Cork Arts Society, Cork.
1990 Kenny Gallery, Galway.
1994 Kenny Gallery, Galway.
1995 Jonathan Swift Gallery, Carrickfergus.
1997 Kenny Gallery, Galway.
1999 Kenny Gallery, Galway.
2002 Kenny Gallery, Galway.
2005 Kenny Gallery, Galway.
2007 Magilfineart, Dublin.
2008 Bold Art Gallery, Galway.
2010 Purple Onion Gallery, Tarmonbarry.


Group Exhibitions

* National Society, London.
* Celtic Charisma, Mall Gallery, London.
* Royal Ulster Academy, Belfast.
* Ulster Society of Women Artists.
* The Stables Gallery, Ballymoney.
* The Bell Gallery, Belfast.
* Malone House, Belfast
* The Jonathan Swift Gallery, Carrickfergus.
* Gilmore Gallery, Hollywood.
* Gallery 148, Hollywood.
* Kenny Gallery, Galway.
* Cambridge Fine Arts, Dublin.
* Millars Gallery , Clifden.
* Cill Rialaig Ballinskelligs Co. Kerry.
* Gormely's Fine Art, Belfast / Omagh.
* Solo Art (Irish and European Art Dealers).
* James Gallery, Dublin.
* Clifden Antiques and Art.
* Purple Onion, Roscommon.
* Bold Art Gallery, Galway.
about me - gallery - courses - kenneth webb - contact me
Sara McNeill. Ladybird Studio, 49 Warren Road, Donaghadee, BT210PQ Tel: 028 9188 3648 Mobile: 07787 800670 E-mail: saramcneill@hotmail.com