The Irish School of Landscape Painting is the oldest Holiday Painting School in Ireland running for 50 years, from 1957, when Kenneth Webb first founded the school.

The Irish School of Landscape Painting is the original and foremost Holiday Pa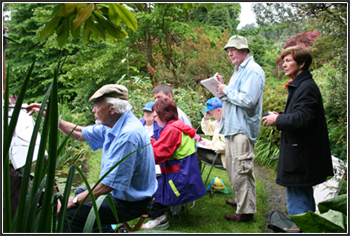 inting School in Ireland. Each summer the School offers courses in some of Ireland's most breathtaking locations. With 40 years experience, these are chosen carefully, taking into account each participants skills. Summer painting courses are conducted in Wicklow and Connemara by three experienced professional artists. Absolute beginners as well as advanced students, are equally welcome. Individual expression is encouraged in an instructive and friendly atmosphere.

To the right is an example of Susan painting an oil demonstration at Sally Gap in the Dublin Mountains from one of the Wicklow Courses. All the courses include on-site training and demonstrations in oils, watercolours, acrylics, pastels or mixed media.

Learn invaluable lessons of how to compose a picture on site as explained in easy to follow steps. Over the years, we have perfected a method and style that suits the wide range of artists that attend our courses.

Whether in Passingano or in the west of Ireland, we try to give you the tutoring that you need in a friendly
atmosphere where students help each other and enjoy themselves. Demonstrations from working artists followed by personal tutorials, help to give focus to the day.
about me - gallery - courses - kenneth webb - contact me
Sara McNeill. Ladybird Studio, 49 Warren Road, Donaghadee, BT210PQ Tel: 028 9188 3648 Mobile: 07787 800670 E-mail: saramcneill@hotmail.com